---
---
Lower Back Stretcher with Acupressure Points
Multi-Level Back Massager Lumbar for Pain Relief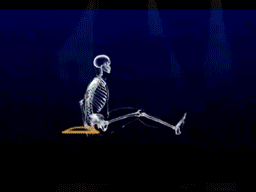 WHY GO TO SPORTS MASSAGE TO RELIEVE THE BACK PAIN?
DO THIS AT HOME AND SAVE MONEY!
ONLINE EXCLUSIVE – NOT AVAILABLE IN STORES 
The benefit of Lumbar Stretcher

STURDY MATERIAL -The lower back stretcher is made of environmentally friendly ABS and NBR materials to provide a harmless and safe experience when supporting the back. This is a sturdy back stretcher that maximizes your backstretch.
EFFECTIVE ACUPRESSURE MASSAGE - The back massage stretcher arch has 88 plastic pins that bring acupuncture effect by deeply pressing the specific acupoints. It helps activate the natural healing response and improve the blood circulation to give you complete relief for back pain, spinal pain, muscle pain, etc sciatica pain relief
ERGONOMIC DESIGN - Basing on the ergonomics concept, the contour of the lumbar traction device is in standard body curve to provide better spinal alignment and efficient acupressure massage. The foam pad in the center of this lumbar back stretcher gives cushioning to ensure your spinal feel comfortable.
ADJUSTABLE STRETCH LEVEL

 

- The back massage stretcher has 3 height adjustments. The higher the back stretcher lifts the stronger stretch you will get. You can adjust this back stretcher device at a most comfortable level for easy stretch and effective pain relief.
MULTI-PURPOSE - The lumbar alignment stretcher can be used whenever you are lying or sitting. The back alignment device can be placed on a chair to help correct your sitting posture, or car seat to serve as lumbar support for a car that helps reduce the tiredness, especially for long time road drive. This can be a gift for the loved ones you care about. 
LIMITED STOCK AVAILABLE
 GET YOURS TODAY
The product is very satisfied, much less hurts the back, + due to the stretch of the spine reduces centimeters at the waist!. In Krasnodar Territory, the parcel came for a month. Seller and recommend
It helps my back stretch i happen to be a bigger breasted woman so i am heavy in the front so it helps relieve the strain for me.
Went 1 month and 2 days. Goods satisfied